RADIO STATION


Radio Los Santos

Location:
Ganton (Grand Theft Auto: San Andreas)
Chamberlain Hills (Grand Theft Auto V)
Genre:
Gangsta rap, West Coast hip hop
Appearance(s):
Grand Theft Auto: San Andreas
Grand Theft Auto V
Host:
Julio G (Grand Theft Auto: San Andreas)
Big Boy (Grand Theft Auto V)
"Blazin' hip hop across San Andreas for 25 years."
— Grand Theft Auto V website
Radio Los Santos (106.1) is a radio station in Grand Theft Auto: San Andreas and Grand Theft Auto V. In Grand Theft Auto: San Andreas, it plays West Coast hip hop from the late 1980s and early 1990s - primarily the "gangsta rap" sub-genre. The station, evidently, broadcasts from Los Santos. This station was released in a joint album with Playback FM as part of the 8-Disc soundtrack. In Grand Theft Auto V it plays modern hip hop and is hosted by real life radio host Kurt Alexander (Big Boy) - host of Big Boy's neighborhood in Los Angeles and voice of the character Big Bear in Grand Theft Auto: San Andreas.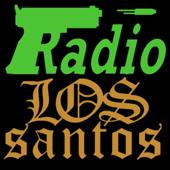 Grand Theft Auto: San AndreasEdit
Grand Theft Auto VEdit
GTA San Andreas
GTA V
See also
Edit
Ad blocker interference detected!
Wikia is a free-to-use site that makes money from advertising. We have a modified experience for viewers using ad blockers

Wikia is not accessible if you've made further modifications. Remove the custom ad blocker rule(s) and the page will load as expected.